Our law office is here to provide assistance with adoptions & surrogacy.
When you have decided to grow your family through an adoption or surrogate pregnancy, it can be overwhelming to navigate all the necessary steps in the legal process that must take place. At Hildebrand Law Office, P.C., we are here to guide you by offering the knowledgeable, compassionate legal assistance you need when it comes to adoptions & surrogacy.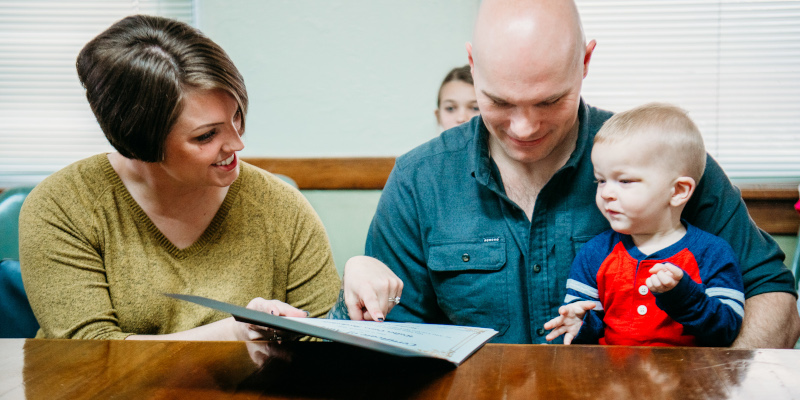 We specialize in adoptions and have helped many families with them over the years, so you can rest assured that we will take care of all the necessary steps in the proper manner to ensure the ideal outcome. We have extensive knowledge of adoption law, and we can help with everything from DFCS adoptions to stepparent adoptions to third-party adoptions and more.
When it comes to surrogacy, you can rely on our office to take you through the entire process from beginning to end. We will make sure all the necessary documentation for the parents and the surrogate is taken care of and that each party understands what is required of them.
In addition to having extensive knowledge of adoptions & surrogacy, we are also passionate about this area of law. It's a privilege to help families in LaFayette, Georgia and surrounding areas. When you need a licensed attorney who has extensive experience in adoptions & surrogacy, we're the office to turn to. Contact us today to schedule a consultation. We look forward to speaking with you soon and guiding you through this important time in your life.
Adoptions & Surrogacy Frequently Asked Questions
At Hildebrand Law Office, P.C., we understand that the decision to adopt a child or use a surrogate, while exciting, can also be overwhelming. The legal, financial, and emotional requirements are numerous, but our team is here to help. Below, we've put together a list of common questions we get asked about adoptions & surrogacy to help encourage you to work with our team when you're ready to move forward with the adoption or surrogacy process.
Who can adopt a child in the state of Georgia?
According to Georgia state law, prospective adoptive parents must meet several requirements. Candidates must be at least 21 years of age and at least 10 years older than the child they wish to adopt, except in the case of stepparents or relatives. They must be a resident of Georgia when they petition for adoption in the state. Adoption candidates must be deemed financially, mentally, and physically capable of providing adequate care and ensuring the well-being of the adoptee.
What is an adoption home study?
An adoption home study is an assessment designed to comprehensively evaluate the prospective parent's suitability to care for a child. It typically involves extensive interviews, home visits, background checks, and document gathering to create an accurate picture of the prospective parent(s) and whether they are able to care for a child.
Are there specific legal requirements for surrogacy?
In Georgia, there are no specific legal regulations around surrogacy agreements, but the prospective parents and the surrogate must be represented by different attorneys in order to protect their separate rights and interests. Their attorneys will work with them to create a legal agreement that is deemed fair and suitable by all parties and may include things like compensation agreements, the rights and responsibilities of each party, and more.
Can you use a surrogate just because you want to, not for medical reasons?
Absolutely! Surrogacy is not restricted to only those who are medically unable to conceive, and there are many reasons someone may choose to use a surrogate.
---
At Hildebrand Law Office, P.C., we assist clients with adoptions & surrogacy matters in LaFayette, Kensington, Rising Fawn, Ringgold, Fort Oglethorpe, and Trenton, Georgia.
Similar Services We Offer: